Way back in history, the yacht sails used to last for many years roughing the wild seas. This led to the idea of a shade sail to provide protection from the wrath of weather and the UV rays in a similar kind of way. As a result, shade sails have become increasingly popular over the years. A shade sail is a fabric membrane that is non-permanent and is held up with the help of fixings on strong poles. It may also be attached to a part of a building in an angled or horizontal manner. Shade sails are mostly flat and two dimensional.
The fixings can be placed at different heights and a three-dimensional structure created with stronger fixings. It is believed that shade sails allow smokers the right place to chill out as some countries have imposed a ban on smoking in enclosed areas. These shades are just a cover on the top and the rest wall area is opening to the environment. The shade sails can accommodate smokers as it meets the need for having 50% of open wall space open.
There are some aspects to keep in mind while using a shade sail
1. Function:
As semi-permanent structures, shade sails can be very useful. It does not require planning permission or building regulations. These shades can survive moderate weather conditions but cannot withstand too frequent rough weather. While a concrete structure would need a lot of investment on the brick and the mortar, the shade sails are nice and bright at a lower cost.
2. Anchorages:
The mounting point to which the sunshade fixing is attached to be known as the anchorage. There should be firm anchorage points for all the corners of the shade sail because these are the potential weak points. On a triangular shape, it is possible to fix one corner only, though ideally, all the corners should have an adjustable link.
3. Site:
The location for shade is important to understand. The area that will be exposed should be known. In case it is in a garden, once needs to consider where the barbecues will happen, the sun's direction, the electrical or the telephone cables and the water pipes. All this to be checked before we plan the anchorages.
4. Fabric:
Each fabric has a range of hues that will be perfect for the right setting. One needs to decide the purpose of the shade. It may be to prevent at least 90% of the sun's rays or for water resistance. The fabric must be robust to withstand moderately rough temperature and weather conditions.
5. Design:
Every company now has a page wherein one can choose the designs from. If not a page, at least there will be a catalog. Though the utility remains one, there is an array of bright colorful designs to choose from. The vibrant colors add positivity to space and lifts up the mood. This is why we find that there is a lot of café's, coffee shops or eateries with colorful shades and these attract a lot of customers.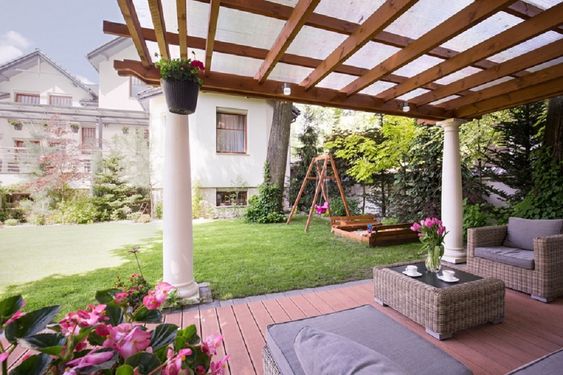 A shade sail can be used for driveways, swimming pools, atop caravans, campers, and boats and for verandas and gardens.
These sails provide a very relaxed atmosphere and yet can be very striking and inviting to a passer-by. The cold look of concrete is replaced by the warmth of a brightly colored shade sail. Extremely lightweight, elegant and fashionable, shade sails are high on utility too. It turns every space into a page from a child's storybook owing to the presence of its vibrant color and informal look. These remind us of a comfortable charming space from one of Enid Blyton's Noddy books.
[zombify_post]